The town of Ubud, in the uplands of Bali has quickly become one of Indonesia's biggest hotspots for young travellers, and with good reason! From its incredible rice paddies and waterfalls to its exhilarating volcano hikes, yoga and meditation classes – Ubud really does have that famous Balinese quirk and flare. Known as the 'cultural capital' of Bali, there's endless things to do within Ubud, that's why we've put together a short list of Ubud's best bits and must-sees!
Tegalalang Rice Terraces
The Tegalalang Rice Terraces in Ubud are some of the most important spots to visit in Bali. Famous for beautiful rice paddies, tiered high in an innovative irrigation system, this expression of greenery shouldn't be missed by nature lovers! Take a full blown tour of the rice terraces, or just turn up and have a wander at your own pace – the locals here are extremely friendly and welcoming.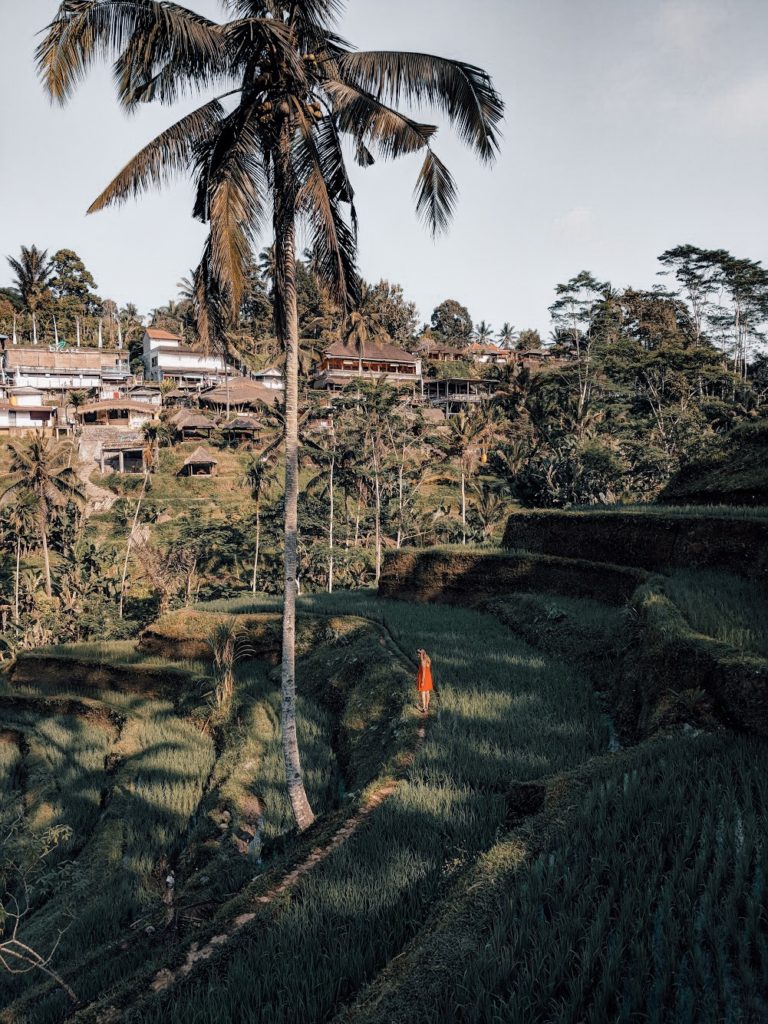 The Bali Swing
We've all seen this one on Instagram…the infamous Bali-Swing! Due to its 'insta-worthy' nature many a travellers head to this tourist hotspot upon arrival to Ubud to swing high over the rice terraces and lush Balinese jungle. These days, an authentic Bali experience wouldn't be complete without a swing – and the Ubud swing certainly doesn't disappoint as one of the eldest original swings with the most incredible views of local villages scattered within the overlooking jungle.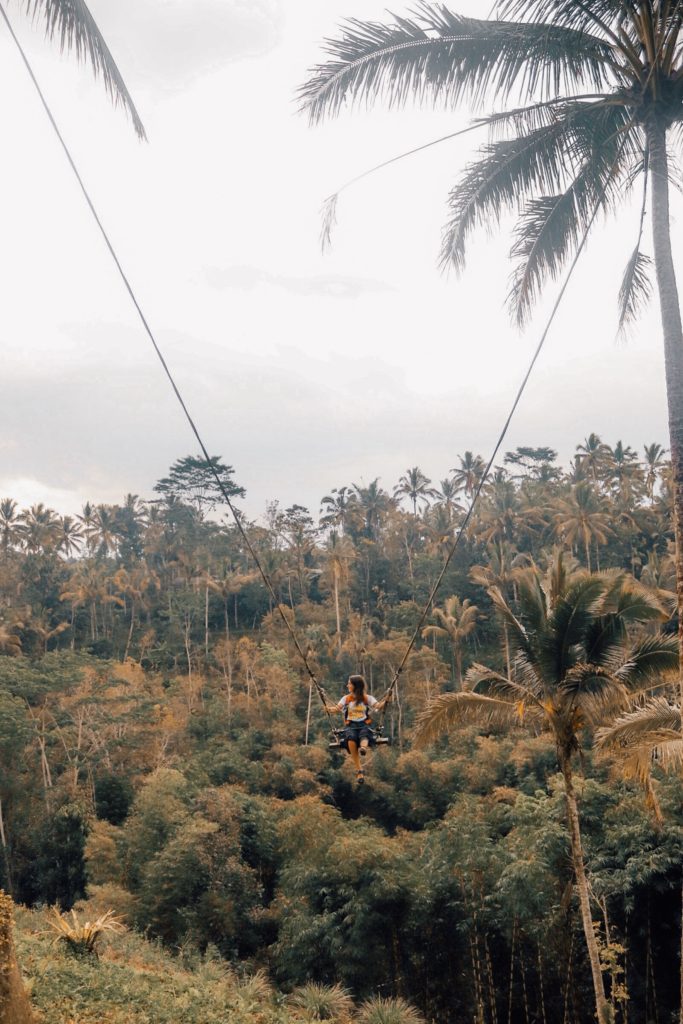 Cat-Poo-Chino
Located just a few minutes walk away from the Ubud Bali-Swing, Cat-Poo-Chino is certainly a unique Balinese attraction. Producers of the famous 'Luwak Coffee' (which is possibly the best coffee we've ever tasted!), Cat-Poo-Chino takes you on a tour of how their wacky business works. Luwak coffee is created by using coffee 'berries' that have been eaten and excreted by a Balinese native cat-like animal, the Palm Civet. Prepare to see these amazing animal up close and learn about the process of how the 'Cat-Poo-Chino' is finessed. You'll also get to try an array of different flavoured coffee and tea's whilst overlooking the Bali-Swing – might as well tick 2 of the bucket list at once, right?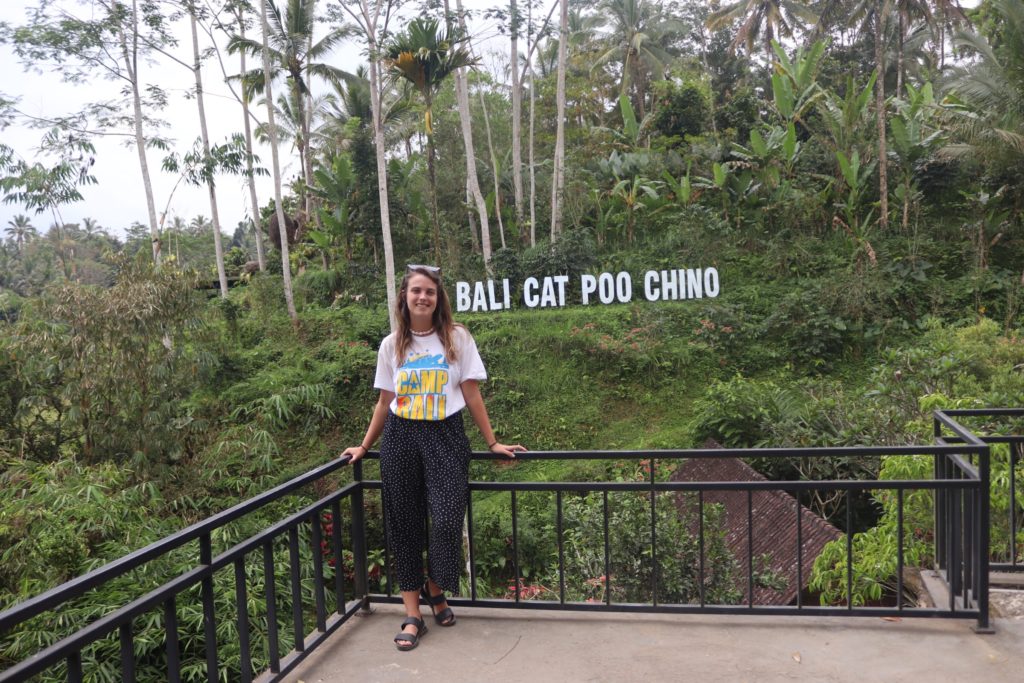 Mount Batur
Mount Batur, otherwise known as Gunung Batur is an inactive volcano located just outside of Ubud. Due to its incredible views from the top, this extraordinary hike has become especially popular with adventurous tourists looking for a magical start to their day with a sunrise hike. Whilst the hike is pretty challenging, the panoramic sunrise views from the peak will leave you lost for words and in total awe. And if that's not enough to persuade you to jump out of bed for the hike, there's also a set of hot springs on the decent down from the top that people tend to stop off at and rejuvenate! Did someone say Mountain Spa Day?!
Monkey Forest
The Ubud Monkey Forest is home to over 1000 grey-tailed macaque monkeys, making it a hotspot for animal lovers keen to have a close encounter with these cheeky animals! Roam the Balinese Forest as monkeys swing from branch to branch above you, watch them feed and be prepared for one of them to even climb on you – perfect picture moment! Be sure to get rid of any food, water bottles or valuables before entering the Monkey Forest though, as the monkeys have been known to be pretty good thieves!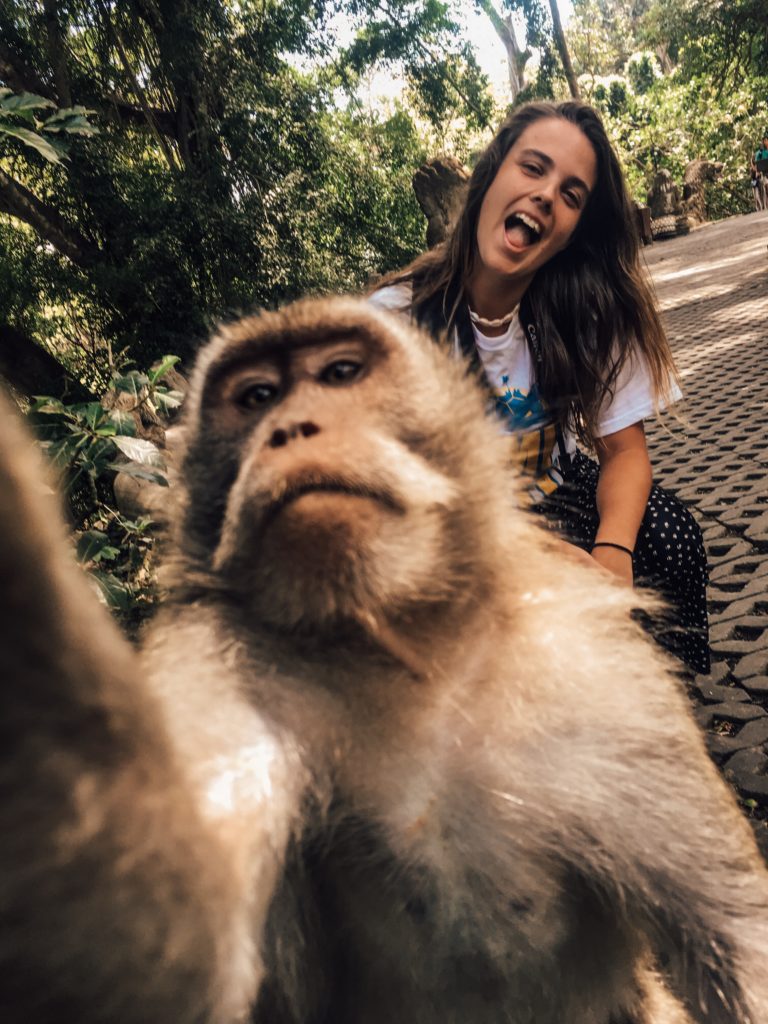 Food Food Food
Bali is an ultimate foodies paradise! With quirky cafe's, traditional Balinese restaurants and street food available on almost every winding street, there's always somewhere to indulge in 'Insta-Worthy' cuisine! Looking for foodie inspo? Check out 'KYND Community', 'Bali-Buda', 'Earth Cafe', 'ZEST Ubud', and 'The Secret Spot'. If you're looking to eat cheap, we recommend eating local – Nasi-Goreng and Mi Goreng (balinese rice/noodle dishes) are always a safe option and 100% delicious!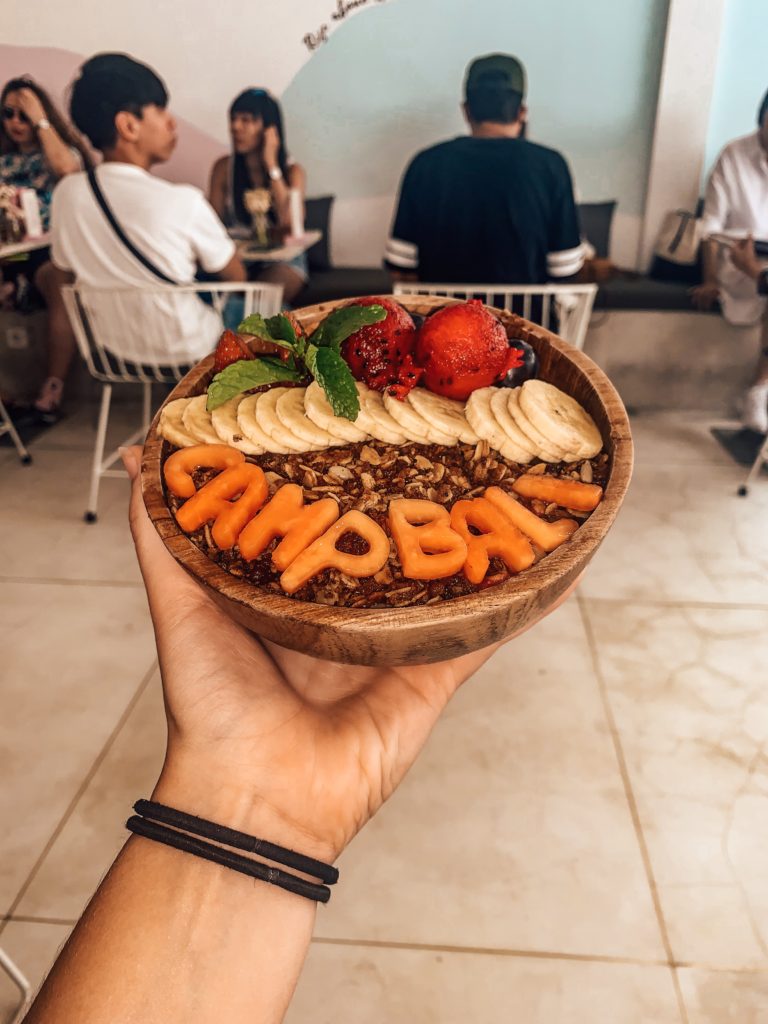 Yoga, Meditation and Massages
Lets face it, you've not been to Bali if you didn't take part in a Yoga or Meditation class. Bali's fitness vibe is peaking at the moment, and we're totally here for it! We're talking sunset and hot yoga to full body meditation overlooking a rice field! Why not top off the experience with a traditional Balinese massage too? Ubud is renowned for it's impressive array of fitness classes and massage parlours, so there's really no better place to revive and rejuvenate! 
Our Camp Bali dates for 2021 have just been announced so apply today to explore Ubud with us next summer!
Much love,
Camp Bali Team x