Camp Bali
Looking to explore the countryside of Bali? Based in Ubud, Camp Bali gives you the chance to explore Bali's nature and get entwined in its local culture. Visit temples, coffee plantations, monkey forests and Ubud's famous Rice Terraces. Not only this but help local communities by teaching English and art and get involved with Turtle Conservation in the beautiful Nusa Penida! Not only that but you top off your adventure with a visit to the beautiful island's of Lombok and Gili, this trip has everything!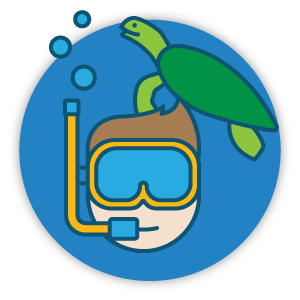 Turtle Conservation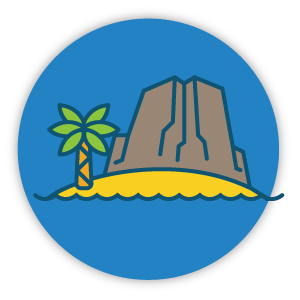 Nusa Penida Beaches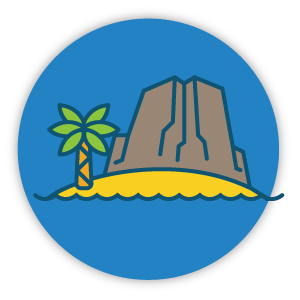 Visit Local Schools
Camp Bali is a brand new program for 2019 so we don't have any Testimonials yet. However, you can rest assured that it's going to be incredible as it has been made by the team behind incredible programs such as Camp Thailand and AmeriCamp!
Airport Pick Up: Transport from Denpasar International Airport to your hotel in Bali for your first night's stay. (Please note, for free airport pick up you must meet us at 2.00 pm on your selected start date).
Airport pick up: You'll be met by one of our friendly reps and taken straight to your accommodation.
All in country transport and transfers: To all of your included activities, volunteering placements and locations.
Accommodation: Basic accommodation throughout your stay at Camp Bali
Activities: Specific to your Camp Location, included within your itinerary.
A free Camp Bali T-shirt
In country support
A free sun tan (Unless you use factor 50)
Flights
Insurance
Personal expenses while at Camp (food, drink, souvenirs and general daily living costs)
Vaccinations (most free on the NHS)
Extra excursions you may wish to get involved. We offer included activities at all our Camps. However, on your free days there are extras you can do which our reps are always happy to help arrange. These never usually cost more than £5- £15 and are completely optional.
DBS Criminal Background Check £48.86
Day 1
Arrival Day
Arrive at Denpasar airport before heading to your accommodation in Ubud
Today will be your first day of this thrilling adventure package. You will start your program with an induction session where you will learn your program for the next 3 weeks and get to know the cultural and dos and don'ts in Bali.
Day 2
Surfing Lesson & Tanalot Temple
Let's explore!
In the morning, you'll have a cultural induction of Bali, before heading off to catch some waves during a surf lesson.
After, you'll visit Tanalot Temple, known as the Temple on the Water, where you'll be able to watch the sunset.
Day 3
Ubud
Today you will visit the Ganuung Kavi temple and see the amazing monkey forest located at the heart of Ubud. Visit Tirta Empul, witness a Kajak dance and rice fields.
Day 4-5
School Visit
The next 2 days will be spent teaching local children English.
You will get help from our reps beforehand to help you prepare your lessons.
Day 6
Nusa Penida
Transfer to the beautiful Nusa Penida.
Here you will spend the day exploring Crystal bay, Angel Bilabong and Broken beach.
Day 7
Free Day
Today is a free day for you to spend however you see fit!
Explore the beaches, read a book and soak up the incredible sunshine!
Day 8-11
Turtle Conservation Project
Get involved in helping these beautiful creatures. You'll spend your days helping to feed them, maintaining and cleaning the sanctuary grounds, cleaning enclosures, supporting the environmental education programs, repairing animal education displays and doing beach clean ups.
Day 12
Ubud Transfer
Transfer to the beautiful island of Ubud. Upon your arrival in the town known for traditional arts and dance, we'll settle into the accommodation in preparation for the next leg of our trip!
Day 13
Lempuyang Temple/Tirta Gangga Taman Ujung
Today you'll be heading on a day brimming with culture and history.
We'll visit the Lempuyang Temple, located in East Bali. This incredible attraction is one of Bali's oldest temples, a must-see during your trip!
We'll then head to Tirta Gangga Taman Ujung, otherwise known as 'The Water Palace', an aquatic wonderland comprising large ponds and stunning scenery.
Day 14
Git Git Waterfall, Jatiluwih, Beretan Lake
The cascading Git Git Waterfall is next on the agenda, with the hidden treasures deep in the forests of Central Bali guaranteed to take your breath away.
The Jatiluwih Rice Terraces and a visit to Beretan Lake, neighbour to Mount Bratan and Mount Catur will round off another memorable day!
Day 15-17
Back to School
Today we will get involved in a new school project where you can re-visit your teaching skills.
Day 18
White Water Rafting & Transfer to Seminyak
Today board a white knuckle ride as we prepare for a bout of white water rafting!
When the adrenaline rush has subsided, prepare for a transfer to Seminyak, a resort in southern Bali.
Day 19
Sea Day
Today is a sea day! Get those snorkels on and explore the beautiful coral reefs, if you are lucky you might even spot a turtle!
Day 20
Water Park & Sky Garden
Today, you'll head for a fun-filled day at Waterbomb Water Park, voted Asia's number one water park!
After drying off, we'll head to the idyllic Sky Garden Buffet, for an all-you-can-eat extravaganza! (Meal & Drinks package)
NB: Applicable between buffet hours of 5pm and 9pm only.
Day 21
Departure Day
Time to say goodbye to your new friends, taking lifelong memories with you!
Please note: Itinerary is subject to change due to unforeseen circumstances.
Something to Consider
Camp Bali is not a typical idea of a holiday and it's not always relaxing; at times you may find yourself in testing circumstances, as you would when experiencing any new culture. That's why it's the Ultimate Bali Adventure! There may be bad weather, mosquitos, long journeys, slow Wi-Fi and limited food options.
However, here at Camp Bali, we thoroughly enjoy stepping out of the comfort zone, embracing new cultures and learning how people live in other countries! Every year, we have a fantastic time, as have thousands of previous Camp.co.uk attendees. Though we personally love the experience, we realise that it may not be everyone's cup of tea. As such, prior to your application, please make sure that you understand that this is a cultural experience, not a luxury holiday; our aim is to make a positive impact in the community – this is a product of hard work and dedication!
While we cannot guarantee that you will have a relaxing time, we fully recommend that you come to Camp Bali with a sense of adventure and a willingness to embrace the experience – ultimately, there is only one person who will dictate how much you enjoy Camp and that's you! We provide the setup and infrastructure for you to have a genuinely incredible time that many would love to be involved with; the rest of the package comes from you and your commitment to the cause.
It is no coincidence that our best participants on the program immerse themselves in the activities each day; if you work with passion, your enthusiasm will not only be appreciated by us here at Camp Bali, but the locals who you are helping will be grateful for your help. We present the opportunity to partake in some of the most unbelievable life experiences, including teaching in communities in local schools and getting up close & personal with Bali's turtles, while making friends for life.
We guess the question now… is Camp Bali for you?! Apply Now
Additional Costs
+ £48.86 DBS Check

Medical Form (Your GP may charge you for completion)

Any additional tours or EP elective you wish to join

Flights and Insurance
Program Requirements
18+
A clear criminal background check completed by Camp Bali (£48.86)
Valid Passport (with at least 6 months left)
A basic level of English speaking
You have to be enthusiastic, outgoing, friendly, good with kids and ready to experience a totally new and exciting culture!
So what are you waiting for? This is a perfect Summer abroad!
FAQs
Am I responsible for booking my own flights?
Your Camp Bali program fee does not include the cost of your transportation to Bali, or your transportation out of Bali when your Camp Bali program finishes.
Our in-house flight team will be in touch shortly after you have paid your program deposit. Alternatively, please email flights@invasion.com
What sort of accommodation will I be staying in at Camp Bali?
You will stay in a bright and airy, bunk bedded room typically with 3-5 other people (of the same gender as yourself) sharing the room. We also have a couple of dorm style rooms which house up to 12 people.
Most of the rooms are fan cooled and in some locations they will have Air con. During most months of the year Bali has a tropical climate and the summer months are much hotter and more humid than the winter months.
Most Camp Bali participants think that it is more fun to stay in the bunk bedded rooms with their new friends – but if you are travelling with a partner and wish to have more privacy you may wish to consider your own private room for the duration of your stay. To discuss this further, please contact the office.
Additional information will be provided during your pre-departure orientation meeting at our Manchester HQ.
Is Camp Thailand for everyone? (Something to consider)
Camp Bali is not everyone's idea of a holiday and it's not always relaxing. At times you may find yourself in testing circumstances, as you would when experiencing any new culture. There may be bad weather, mosquitos, long journeys, slow wifi and limited food options. However, here at Camp Bali, we believe that is what comes with stepping out of your comfort zone and into the unknown. We love it, as have thousands of previous Camp Bali attendees. However, we realise that it may not be everyone's cup of tea.
Before applying to take part in Camp Bali, please understand that it's a cultural experience. It isn't a luxury holiday, and one of our main focuses is to make a positive impact, which often comes with hard work. We can not guarantee you will have a nice relaxing time. You have to come to Camp Bali with a sense of adventure, go with the flow and be laid back. Basically, YOU are the deciding factor in the experience you have at Camp Bali. We provide the setup and infrastructure for you to have an incredible experience. However, that is only half of it. The other half comes from you. Your passion to help others, your spirit to do something different, your ability to make friends and go with the flow. You get out what you put in and if you give it your all, together we will have an amazing experience at Camp Bali. We can teach communities in local schools, make friends for life and get involved in some incredible activities.
I guess the question now… is Camp Bali for you!?
Is Wi-Fi available at Camp Thailand?
Yes, Wi-Fi is available, whether it be in a communal area or in your room. However, we try our best to ensure that Wi-Fi is available in most areas of your accommodation.
Additional information will be provided during your pre-departure orientation meeting at our Manchester HQ.
17th May - 7th Jun
7th Jun - 28th Jun
28th Jun -19th Jul
19th Jul - 9th Aug
9th Aug - 30th Aug
30th Aug - 20th Sep