Day 1 – Arrival Day
Selamat Pagi! Welcome to Indonesia! Arrive before 5pm for a free airport pickup from Denpasar Airport (DPS). Transfer over to your accommodation in Ubud – freshen up or take a nap after a long flight before an induction session outlining the next 3 weeks of Camp! This evening, head out for dinner and drinks to get to know your fellow Camp mates, did someone say pool party?
[-/-/D]
Day 2 – Ubud Day Tour
Time to explore Ubud! Spend the day immersing yourself in true Indonesian culture – today certainly isn't the day to leave your camera behind! First stop is The Monkey Forest, also known as the Sacred Monkey Forest of Padang Tegal. This is one of Ubud's most popular attractions; a natural forest sanctuary that is home to a horde of grey long-tailed macaques! Come face to face with these amazing animals, but be careful as they sometimes like to steal your possessions! Then visit the famous Tirta Empul complex; one of the sacred temples for Balinese Hindus before continuing on to Gunung Kawi Temple and Tegalalang Rice Terrace.
[B/-/-]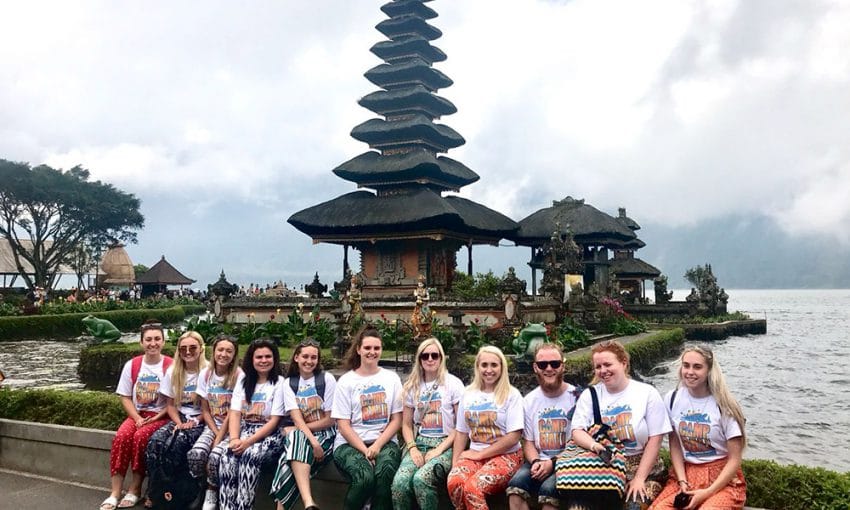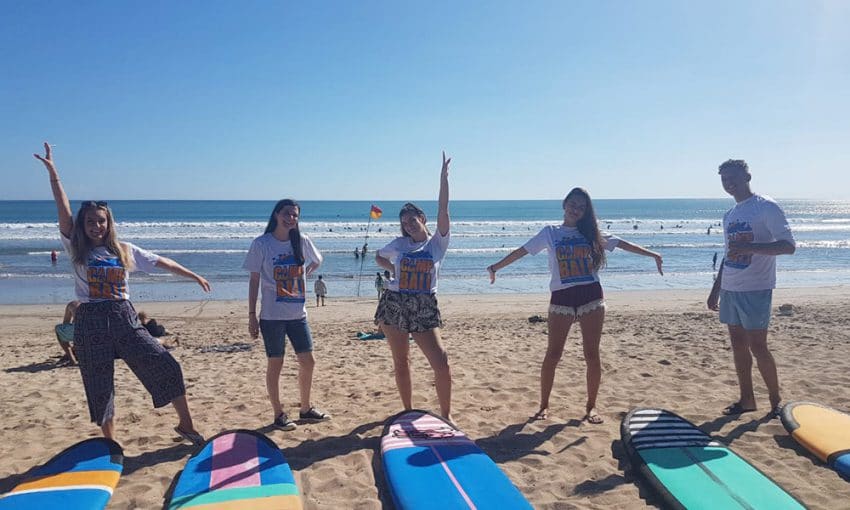 Day 3-4 – School Visits
Take the opportunity to make a positive impact! Over the next two days you'll use your English teaching skills to help kids in local schools open up their minds and expand their horizons. Get ready for an inspiring journey – lesson planning awaits before embarking on this life-changing experience to ensure you are prepared!
[B/-/-]
Days 5 – Transfer to Nusda Penida & West Nusa Penida Tour
Start your day off with an early morning boat transfer to the beautiful island of Nusa Penida! Embark on a full-day exploration, taking in all its iconic sights – from Kelingking Beach's stunning cliffs, Angel Billabongs' captivating lagoon and Broken Beach's unique coastline. Then settle into your hotel for the night after what is sure to be an amazing adventure.
[B/L/-]
Day 6 – Snorkelling Tour – Manta Ray Point!
Get ready for a day of exploration into the depths of Bali's aquatic marvels! Start by snorkelling three wondrous spots, including Manta Bay – home to majestic and graceful manta rays. Then move on to Gamat and Wall Bays where you will be mesmerized with an amazing array of marine life while soaking up some breathtaking views. They're not always there but with luck, you may even spot one or two gliding giants along your journey.
[B/L/-]
Day 7 – East Penida Tour
Off on another adventure around Nusa Penida! From captivating Atuh Beach and Diamond Beach, to the Thousand Islands where majestic birds soar against a backdrop of shimmering sea life. If we've got some extra time up our sleeves – be sure not to miss out on visiting an incredible Tree House*, with jaw-dropping scenery perfect for capturing memories that will last forever!
(*extra costs for the Tree House can apply)
[B/L/-]
Day 8 – Nusa Penida Free Day
It's your free day for rest and relax on Nusa Penida.
Ask our Reps and guides for extra activities to do, they'll be happy to help!
[B/-/-]
Day 9 – Transfer to Ubud
End your Island escape and be whisked away for another journey across the divine mainland of Bali!
[B/-/-]
Day 10-11 – Ubud Volunteering
It's time to make a tangible difference! In the next two days, you can join fellow volunteers in helping at an NGO that focuses on people with special needs. Do more than just lend your hands – become part of their teaching classes or craft projects and share some laughter over painting sessions and exercise routines whilst making unforgettable memories along the way. For certainty of impactful assistance, there will be local teachers present who'll guide each group across morning or afternoon shifts throughout these extraordinary 48 hours – simply amazing!
[B/L/-]
Days 12 – Full Day Temple Tour
Get ready to experience some of the most breath taking views this side of heaven! Today, we visit Lempuyang Temple – one of Bali's greatest wonders. Then it's off to Tirta Gangga and 'The Water Palace' at Taman Ujung where you can explore a magical aquatic paradise full of picturesque ponds surrounded by majestic scenery – perfect for those Insta-stories!
*Additional cost for photos at heavens gate apply, approx £6pp
[B/L/-]
Day 13 – Full Day Tour, Git Git Waterdall & Beratan lake
A day of exploring Bali's hidden treasures deep in the forests of central Bali – this one is bound to take your breath away. Marvel at the cascading waters of Git Git Waterfall, before visiting another wonderful view at Beratan Lake in the afternoon! Don't forget your camera today, we can guarantee more instagram worthy moments.
[B/-/-]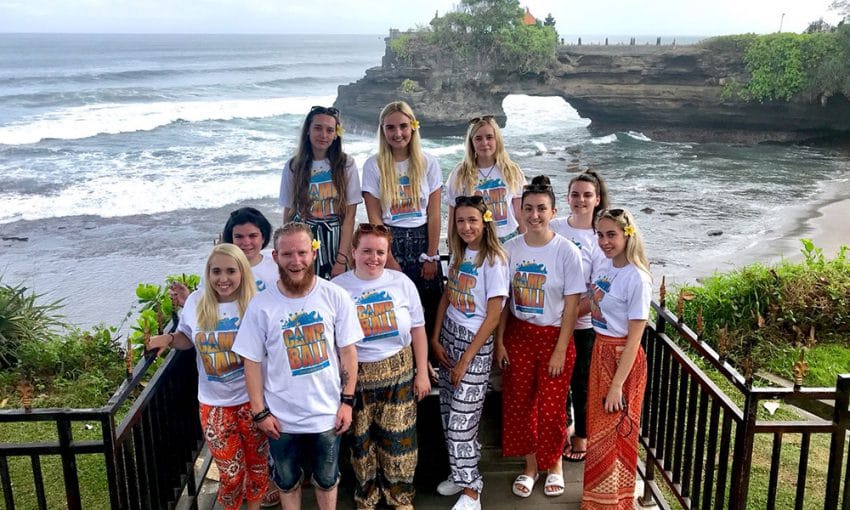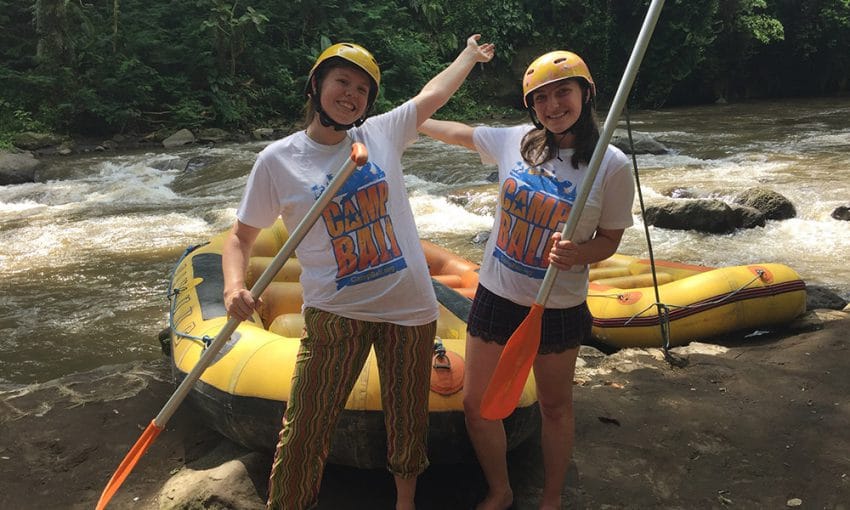 Day 14 – White Water Rafting & Drop To Seminyak
Get ready for a wild ride of adventure and excitement as you ascend onto one of Bali best rafting spots. Feel your heart race in anticipation as white water rafting takes hold – then after all that thrill, head on over to Seminyak for some much-deserved chill time.
[B/L/-]
Day 15-16 – Volunteering at Serangan Turtle Conservation
Today is an amazing opportunity to make a difference in the protection of these magnificent Balinese sea turtles! Human activities such as over-hunting, egg consumption and ocean pollution have had devastating effects on their population. Our team is here to help by providing educational programs while maintaining clean sanctuary grounds – all with one goal: restoring our majestic turtle friends' numbers into safe levels! Your experience will include feeding them, cleaning enclosures and completing beach cleans ups in split morning or afternoon sessions. To further benefit this incredible cause you can also choose from additional rewarding experiences including releasing your very own beloved turtle friend (at extra cost) which directly supports operational costs for the sanctuary too – how cool is that?
[B/-/-]
Day 17 – Kuta Beach Day & Surf Lesson
Take the plunge and try something new this morning! Make your way to one of Bali's stunning, palm fringed beaches for an authentic Indonesian Surf lesson with our expert instructors. Leave feeling like a pro after learning how to ride those waves in style.
[B/-/-]
Day 18 – Waterpark & Buffet
Get ready for a sensational day at the award-winning Waterbom Water Park – voted #1 in Asia! After all that splashing, treat yourself to an unforgettable feast of culinary delights with unlimited helpings at Sky Garden Buffet (or similar venue). It's sure to be another amazing experience on Camp!
[B/-/D]
Day 19 – Free Day
Make the most out of your last day at camp! Feel free to bask in the sunshine, pick up some mementos and enjoy a delicious final meal. Make sure you savour every second —your memories will be with you always!
[B/-/D]
Day 20 – Departure Day
Home time! Time to say goodbye to your new friends, taking lifelong memories with you. Never forget to inform us of your departure flight and we will drop you to the airport!
[B/-/-]